Old Favorites That Never Disappoint:
With Father's Day right around the corner, I needed to squeeze in some family time before going on vacation Saturday. What better way to show those you love than treating them to some good food? And that's exactly what I did. I made plans to meet at my grandparent's house after work, asking my mom and step-dad to join me and to bring their appetites because it was Chinese food time!
Mei Hon is an old favorite of mine. I have been frequenting this local South Side eatery for years. I have tasted most dishes on the menu, and have enjoyed it all. Whether it's sampling their simple but tasty lunch buffet, dining in, or carrying out, I have always been satisfied with their service, their variety, and the quality of their food, and this occasion was no exception.
I called in my carry-out order as I was about to leave work, for it was a 10 minute drive from work, and a 3 minute drive from my final destination. I wanted to make everyone happy, so I ordered a little something that each dinner guest considered a favorite: House Fried Rice for myself (which I consider to be the absolute best fried rice I've ever had-and I've tried enough varieties of the dish to be confident in that statement), House Lo Mein for the grandparents (they love their noodles), Sweet and Sour Pork for my step dad (a dish which he orders at every Chinese restaurant we have ever been to), and Mongolian 3 ( which is the house version of their most popular dish-Mongolian Beef-something my mom has ordered on many occasions). The service on the telephone was friendly, and the service the moment I walked in the door to pick up my order was equally pleasant. I was greeted with a smile and a hello and was given my food immediately after. Now that's my kind of take out visit-short and sweet.
Everyone was waiting for the guest of honor when I pulled up to the house. The guest of honor being the yummy food of course! After setting the table and setting our all the steamy boxes, we all dug in.
I served myself a little bit of everything….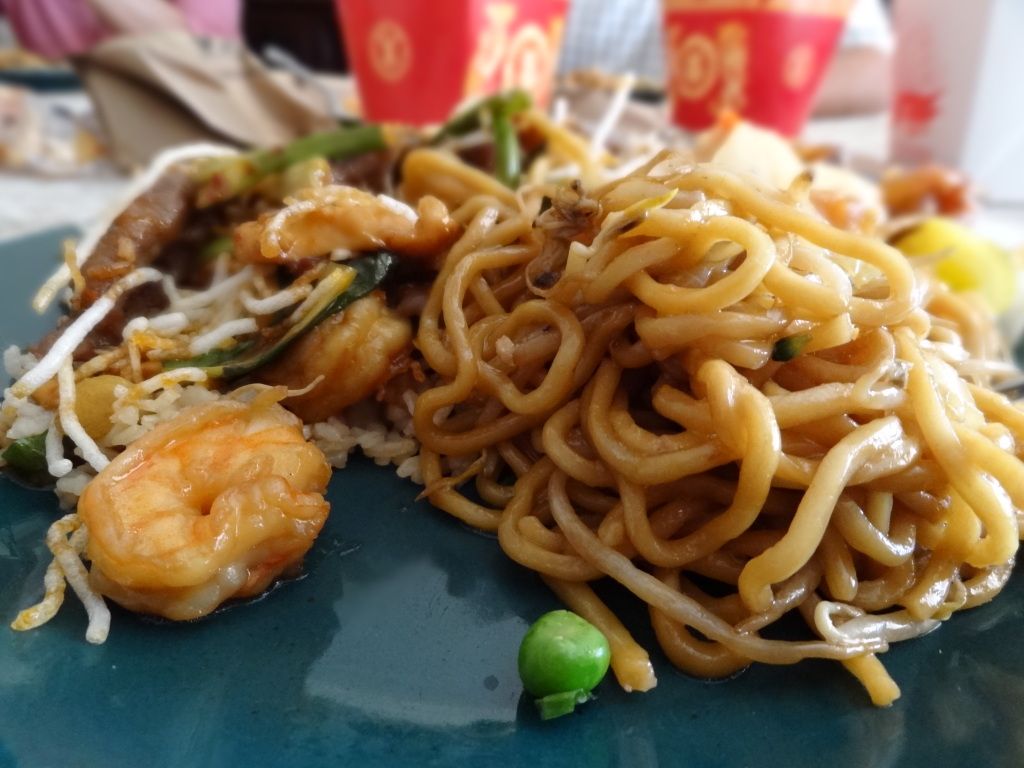 Which in the end, turned into a heaping plate of Chinese goodness.
And I ate it all like a champ, with no breaks in between. I was a steady, happy eater, until the very last shrimp, the very last noodle, the very last grain of fried rice was scooped up and devoured. Every one else joined me in my food adventure, going for seconds and thirds of their favorite dish. There was even enough left over for a second dinner later that evening, which my grandma said she would happily help finish off.
Now for the main questions:
10 scale service rating: 10
10 scale food rating: 10
Is it worthy of a repeat visit?   Yes
Would I order the same dish or change it up? Anything I order from Mein Hon is good, so it really doesn't matter what I order.

Don't take my word for it. Check it out:
1030 East Irvington Road
Tucson, AZ 85706