Disney World: Epcot:
On the plane ride to Orlando, Florida, my Tia described to me how wonderful the food was at the Epcot park. She explained that the park was broken up into 11 countries, and each country was designed to mimic the actual place-food included. She told me that our goal for that trip was to sample something from every country in the park. She told me I would not regret it. She also told me I would have to pace myself if we were going to fit it all in without getting overly stuffed. She said we were just going to be tasting food all day, not indulging too much on any one thing. The thought of this challenge immediately brought a wave of panic over my body. How could I stop eating something if I really enjoyed it? I was going to need some help with that because when I like something, I'll eat it all. I have a problem with stopping sometimes, even when my stomach tells me enough is enough. I didn't want to make myself sick….not while on vacation. But I was down. I was up for her food challenge. I was ready to taste the world. Why not?
First Stop: Paris, France: Boulangerie Patisserie
Although we arrived at 9 a.m., The Epcot side of the park didn't open until 11. After killing some time on the "Future" side of the park, refusing to even have a coffee, in preparation for a long day of eating, we made our way to Paris. My Tia suggested we start there, so I could get my java fix and she could fill her craving for their yummy bakery goods.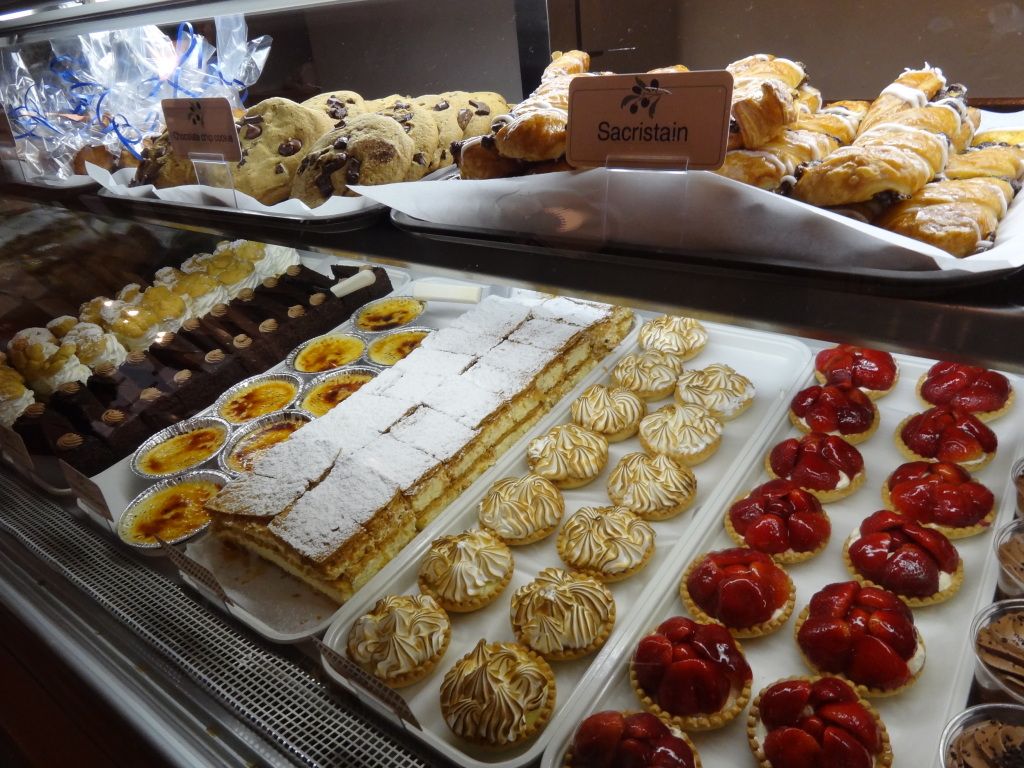 In addition to sweets, they had a wide variety of sandwiches, breads, deli creations just ready to be heated in the oven, served up hot, melted, and toasty.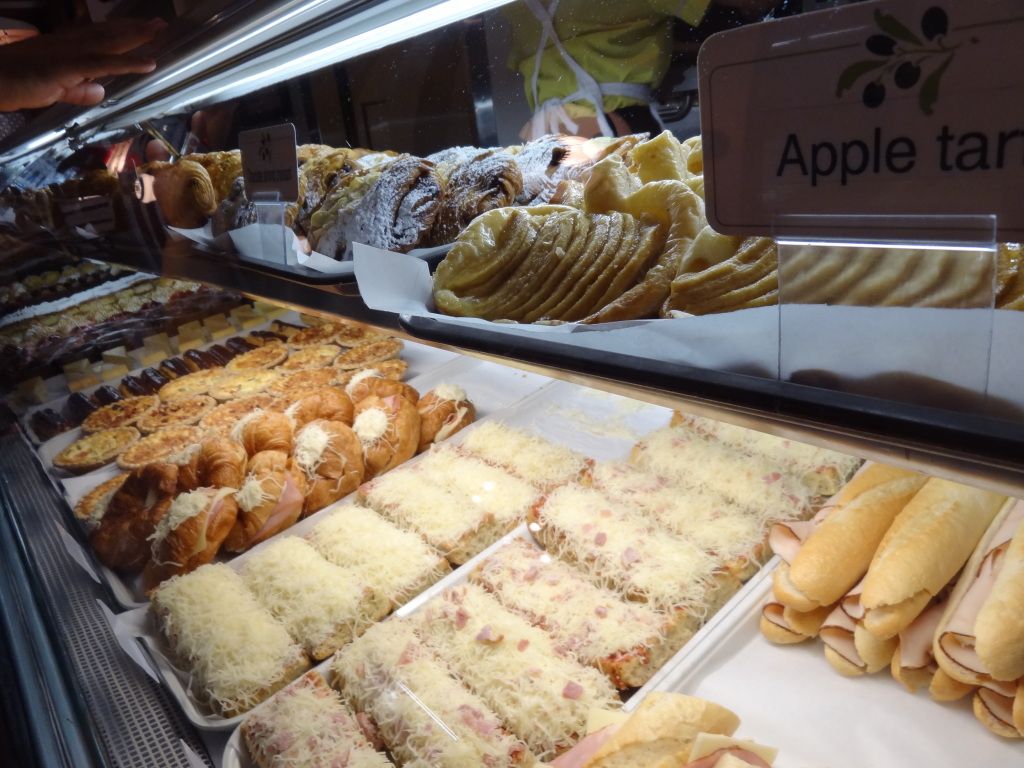 After much deliberation, we decided on a variety of french creations:
Rustic Ham Tartine
Sacristain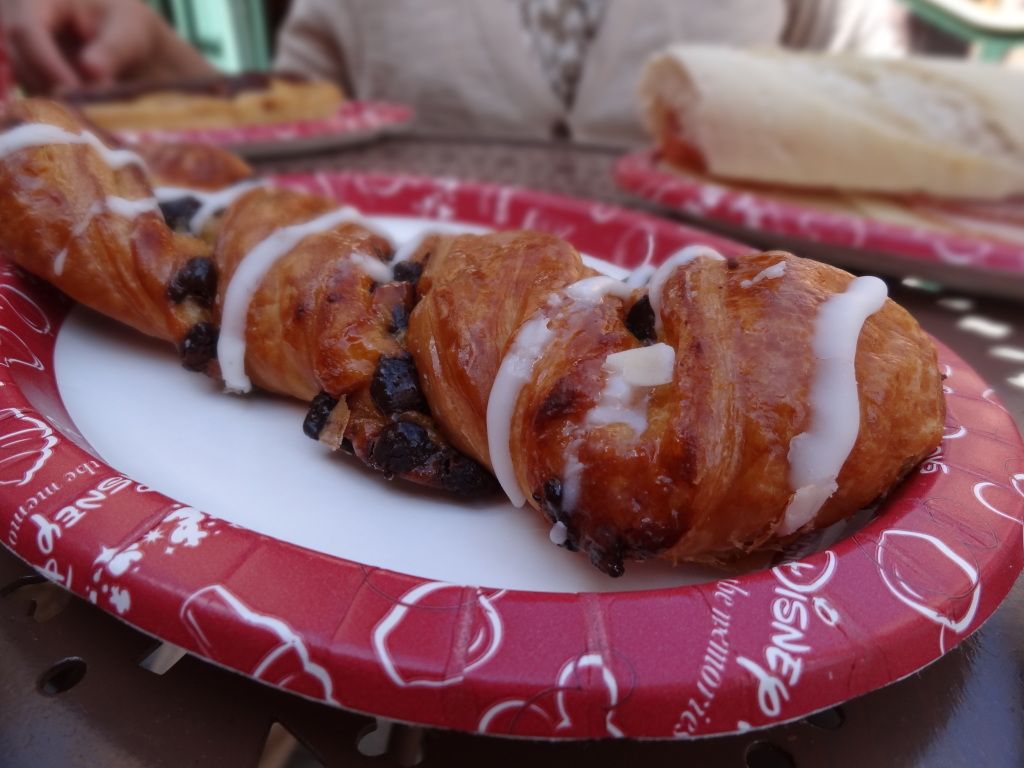 and a bite of my Tia's chocolate filled Eclair
Everything was decadent. The tartine reminded my of a French bread pizza….only better! The fresh baked rustic bread was key. The consistency was toasty on the outside and soft in the middle. The cheese was crunchy with so much flavor, and the hint of tomato sauce underneath it all was the perfect accent to it all. It was very difficult to not eat the entire thing. I cut it in half, and with much hesitation, that was all that I had.
The sacristain was equally satisfying. It went really well with my cafe mocha. It was like a glazed twist doughnut, only it had more consistency and with sprinkled with warm chocolate chip pieces inside and out. It was flaky and chewy with just the right amount of sweet. Once again, I cut it into thirds and only ate one, another difficult task.
Lastly, I cut off a small corner of my Tia's chocolate filled eclair because I just needed a taste. I had eaten eclairs before, but never one filled with chocolate. Boy was it tasty. The filling was light and creamy, and the crust was fresh. Paris made my tummy very happy.
Second Stop: Japan: Tokyo Dining
After a stroll through Morocco, my Tia decided that there was nothing on their menus that tempted her appetite. Many of their dished were made with lamb meat, which she said she did not eat. Although I enjoyed lamb meat, I saw her hesitation as a free pass. I wanted to give my food a little time to go down before tasting the next country's cuisine.
Tokyo was great. We walked through all of their shops, took lots of fun touristy photos, and enjoyed a Japanese drum show before sitting down to an authentic sushi lunch.
Misu Soup and Edamame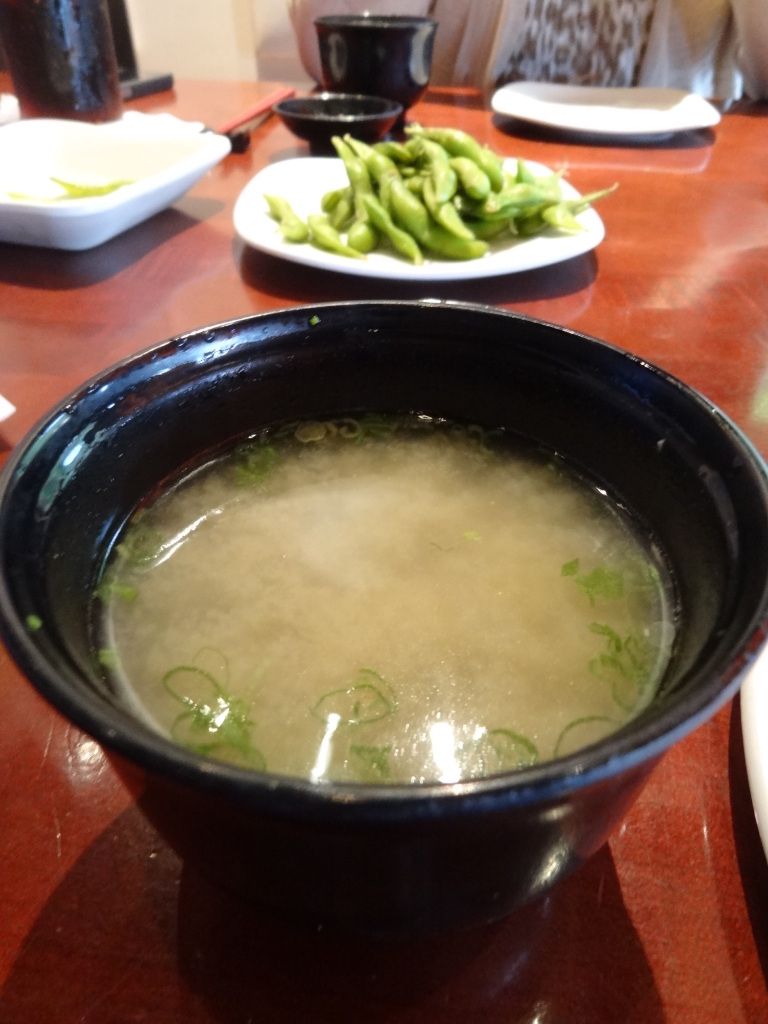 Volcano Roll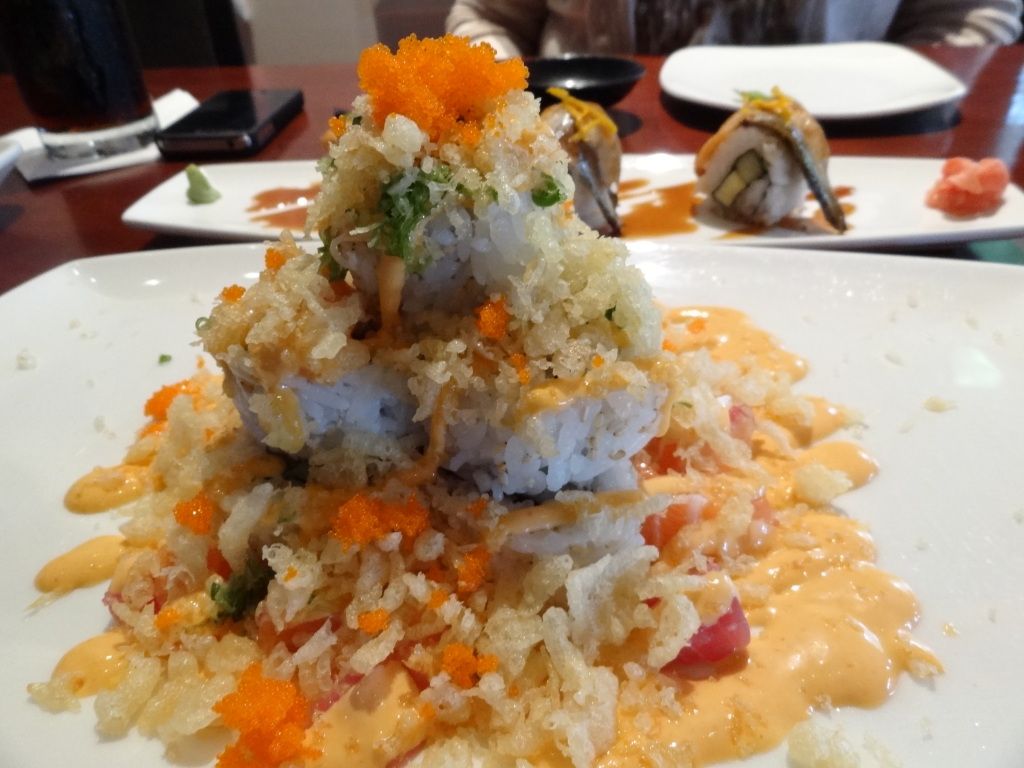 Unagi ( Fresh Water Eel)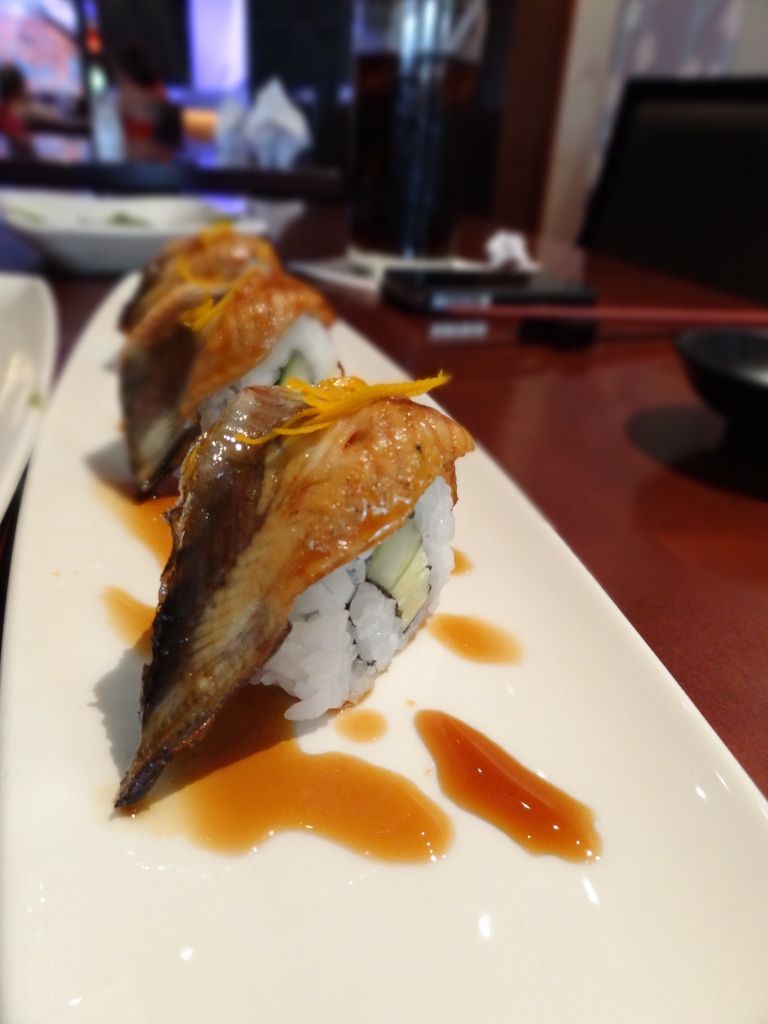 Tokyo definitely did not disappoint my sushi loving taste buds. Their misu soup was the best misu soup I had ever had, and I've had many bowls through the years. It had the perfect amount of salt and was smooth and warm going down. It was very easy to drink and very difficult stop drinking. I stopped myself at half a bowl.
The unagi was good, but not stupendous. It was simple and fresh, but the volcano roll was a masterpiece. In addition to the beautiful presentation, the spices, creams, and fish were full of flavor. The crunch was also a nice touch. It was spicy, creamy, and crunchy. A great combination. I ate most of this roll, but being that it was sushi, it didn't feel as heavy in my stomach as an entire pastry or bread log may have felt.
Third Stop: Italy: Via Napoli
After passing through the USA and enjoying some shows, songs, and shops, we headed into Italy. My Tia B-Lined to this sit-down restaurant that she said specialized in pizza. This place was buzzing with people, and most of them had huge pizzas sitting on their tables. The pizzas looked great too. They were thin crust pizzas, cooked to a golden brown, and covered in white melted cheese, sprinkled with various meaty toppings. I was excited about this meal. Pizza is definitely a meal that I crave regularly.
After a 15 minute wait, we were led to a large area to the far right of the restaurant. We were seated against a wall that had a beautiful view out to the courtyard of the park. The entire wall that we sat against was a window, which let in the soft natural light.
After reviewing the menu, my Tia and I decided to split a peperoni pizza. We ordered the pizza for two, so you could imagine my astonishment, when a pizza big enough to comfortably feed 4 people was brought to our table.
It was was huge and beautiful.
Despite the large circumference, it was surprisingly light. The crust was thin and crisp on the outside, with soft dough at the center. The sauce was also very light, and the pepperoni was small and thick, giving the pizza a great zing of flavor. It was too easy to keep cutting pieces from the pie. If this would have been our only meal, it would have been easy to split between two hungry people. On this occasion, I limited myself to two saucy pieces. I should have only had one, but I decided to be bad, and gave in to just one more piece, and it was so worth it too.
Fourth Stop: Germany: Karamell-Küche

Although Germany was all about sausages and beer, my stomach may have just popped if I stuffed it with yeast and meat. Instead, we decided on something sweet. Apparently, Germany is known for it's chocolates and caramel too, and luckily I'm a fan of both. This sweet shop had cookies, brownies, rice crispy treats, marshmallows, apples, and pretzel sticks, all covered in creative combinations of caramel, nuts and chocolate drizzles.
After much deliberation, we decided to share a peanut covered caramel apple. They were freshly made at the candy shop.
The green nutty covered fruit, was cut into 4 pieces, and we crunched through one piece each. The caramel was fresh and creamy. The peanuts were the perfect topping for this classic dessert. After all, a caramel apple just wouldn't be complete without the nuts.
Fifth Stop: China: Joy of Tea Kiosk
After walking around thepark for the better part of the day, I was in some serious need of a caffeine pick me up. After enjoying a small history museum in China and a wonderfully entertaining acrobatics show, we walked right into a Chinese Tea cart.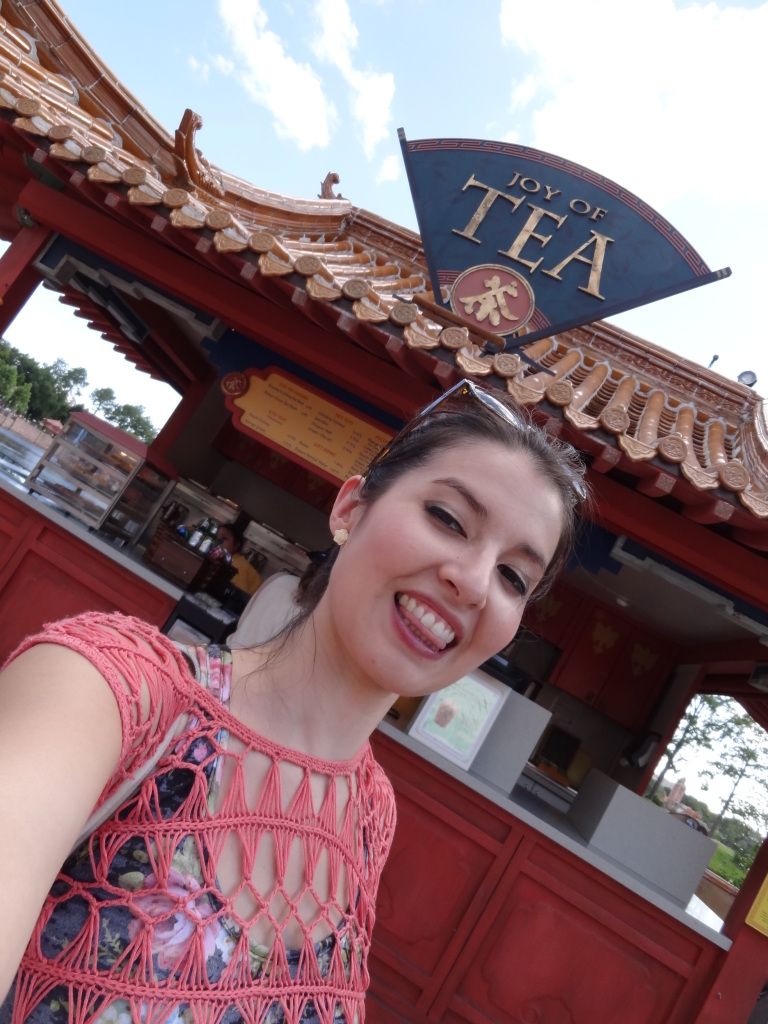 The first drink that caught my eye was a chocolatey looking drink with whipped cream. It looked so good! The photo kind of reminded me of a Mochalatta Chill from Cinnabon, but the ingredients were way more interesting. It was a mix of coffee, tea, and chocolate-3 of my favorite things. Plus-it was topped off with whipped cream. And with a name like Tipsy Ducks In Love, I just had to have it!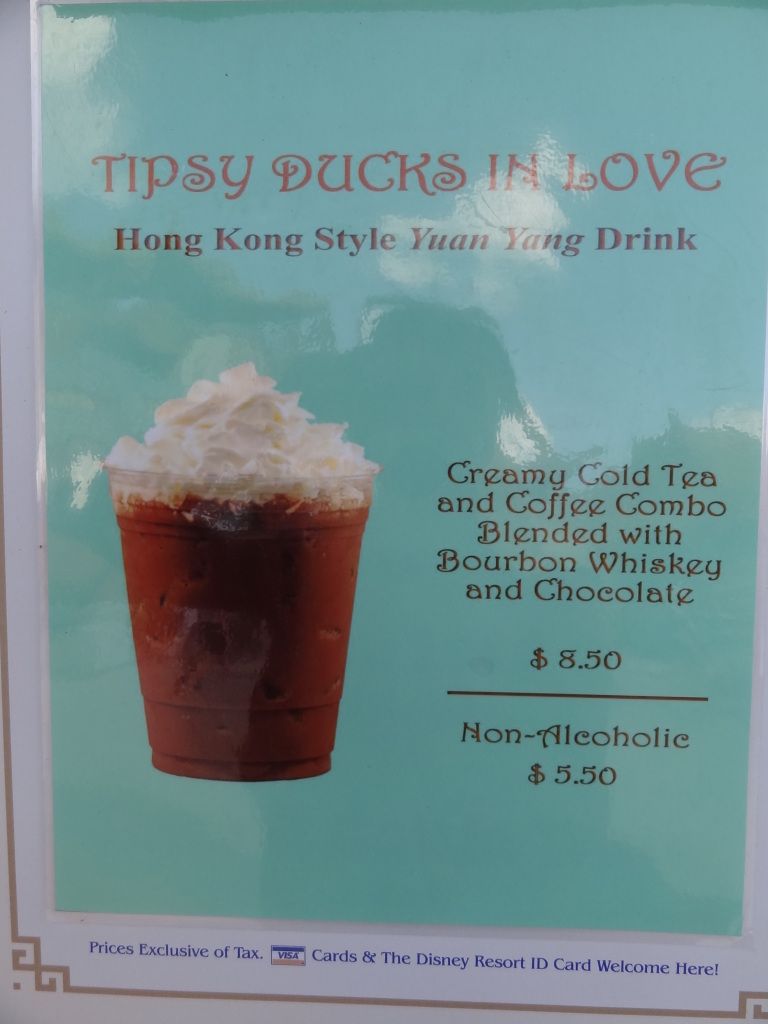 This drink kicked the Mochalatta's butt all over the place, and that's saying a lot because I really like that drink. It was just so smooth and creamy. The tastes were also very mellow, with neither of the three ingredients over powering the drink's overall flavor. It was the perfect combination, and it gave me the energy I needed to keep on moving through my food adventure.
Sixth Stop: Norway: Kringla Bakeri Og Kafe
Norway is a country I've wanted to visit for years. Many of the bands I love come from Norway, plus I find the history of the Vikings and Folklore very interesting. Inside Norway's gift shops, I was like a kid in a candy store. I stocked up on Norwegian books and trinkets to take home with me, plus I took a lot of fun photos.
Although I had to take a peak into the Norwegian bakery, my stomach was finally telling me that I had had enough. My shorts were fitting a little tighter around the waist and looking down at my stomach, I saw a little bump, where there should have been none. I was full, but I just needed to taste something from Norway. I would have regretted it if I hadn't. Luckily, Norway had a Viking Ship boat ride with a line. The ride would be the perfect way to give my drink and food some time to go down before re-visiting the bakery. It worked too. After the ride, my stomach had a little bit of room to squeeze in a tasty pastry.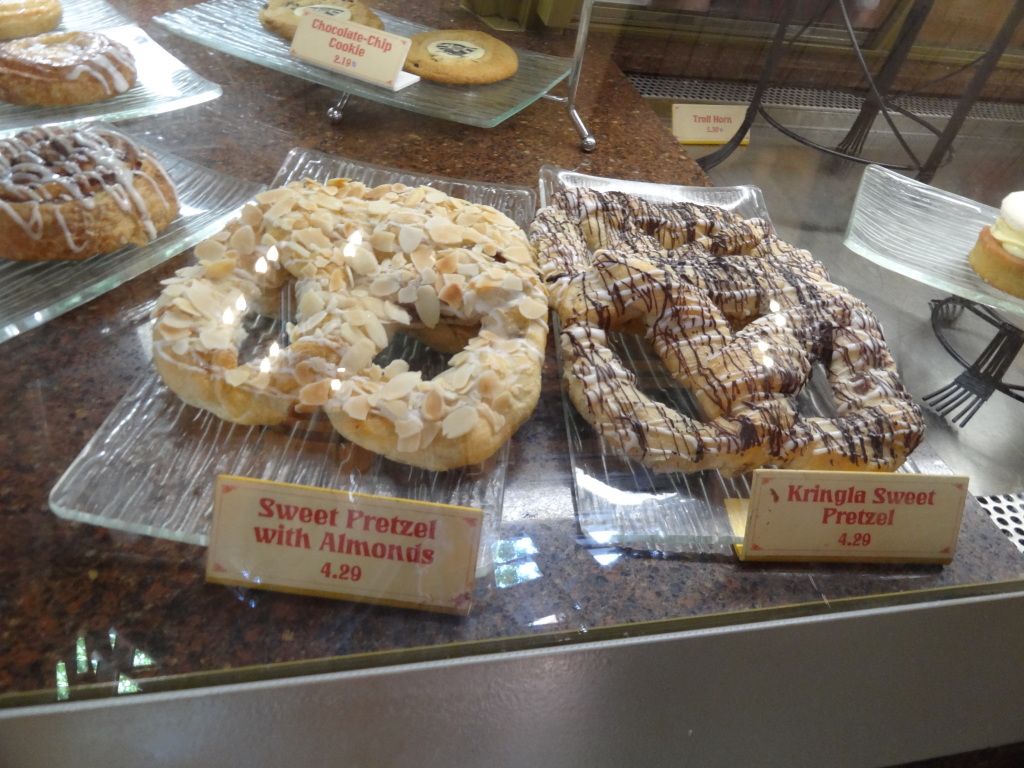 Immediately, the sweet drizzled pretzels caught our eye. The almond pretzel in particular was a must have, so we did.
We shared about a third of the pretzel each, and despite my previously full and aching stomach, I wanted to eat the entire thing. The crisp and crunchy almond slithers complimented the soft dough underneath it all. My Tia had to take it away from me because I was on my way to busting through my shorts, and I would have done so with a smile.
7th stop: Mexico: La Cantina De San Angel
I definitely thought this stop was going to be pure seeing and no eating being that we had both been to Mexico numerous times, and had the opportunity to enjoy authentic Mexican food whenever we wanted back home. I was terribly wrong. My Tia had been on a Mexican food mission since her last Epcot visit o find something good to eat. She explained to me that last time she was in Epcot Mexico, she had eaten some of the worst tacos ever. She said they were so bad she only had 2 bites and left the rest. She was very disappointed and needed to replace that bad food memory, so after Donald Duck Fiesta boat ride and underground shopping, we made our way to a casual outdoor restaurant. The same restaurant with the bad tacos!
Unfortunately, Mexico's more formal eateries were booked for the evening, taking reservations only. We decided to play it safe and order the cheese empanadas. It's pretty difficult to mess up cheese.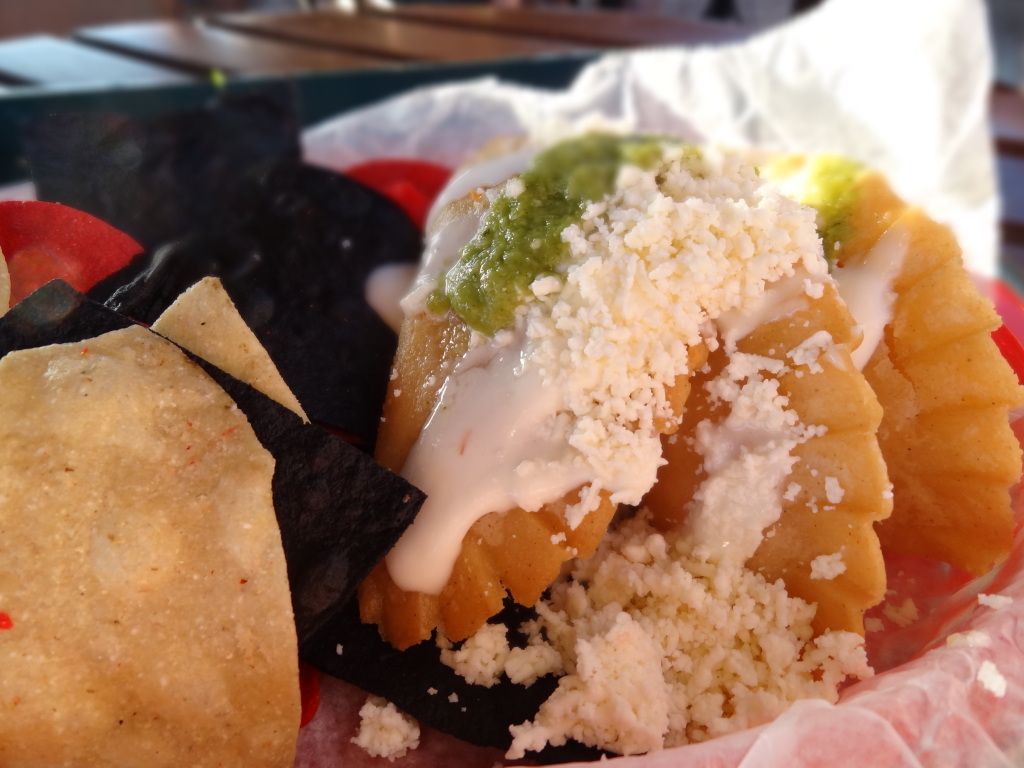 They looked good and smelled good too. That was promising. Plus-they were hot, giving me the impression that they were freshly made. We each had one, and we both were impressed.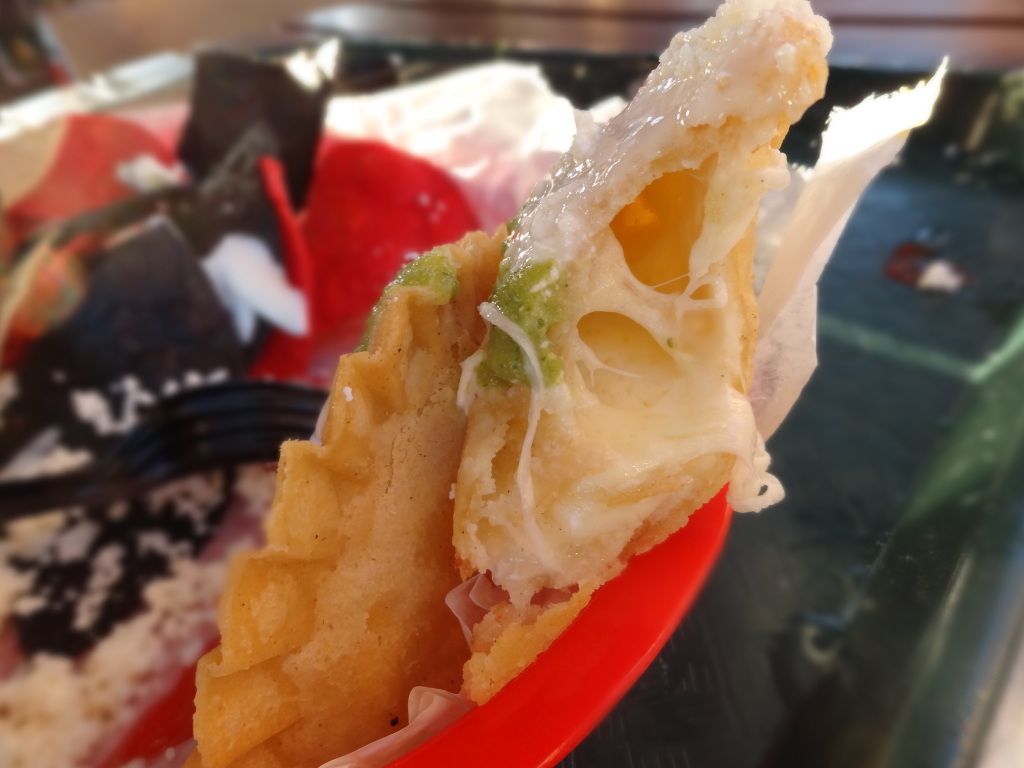 The cheese was nicely melted and the empanada shell was crispy like a fried corn tortilla. It was like a quesadilla hot pocket. Yum! Once again-I could have easily crunched through both, but I didn't. Sigh.
Last Stop: United Kingdom: Yorkshire County Fish Shop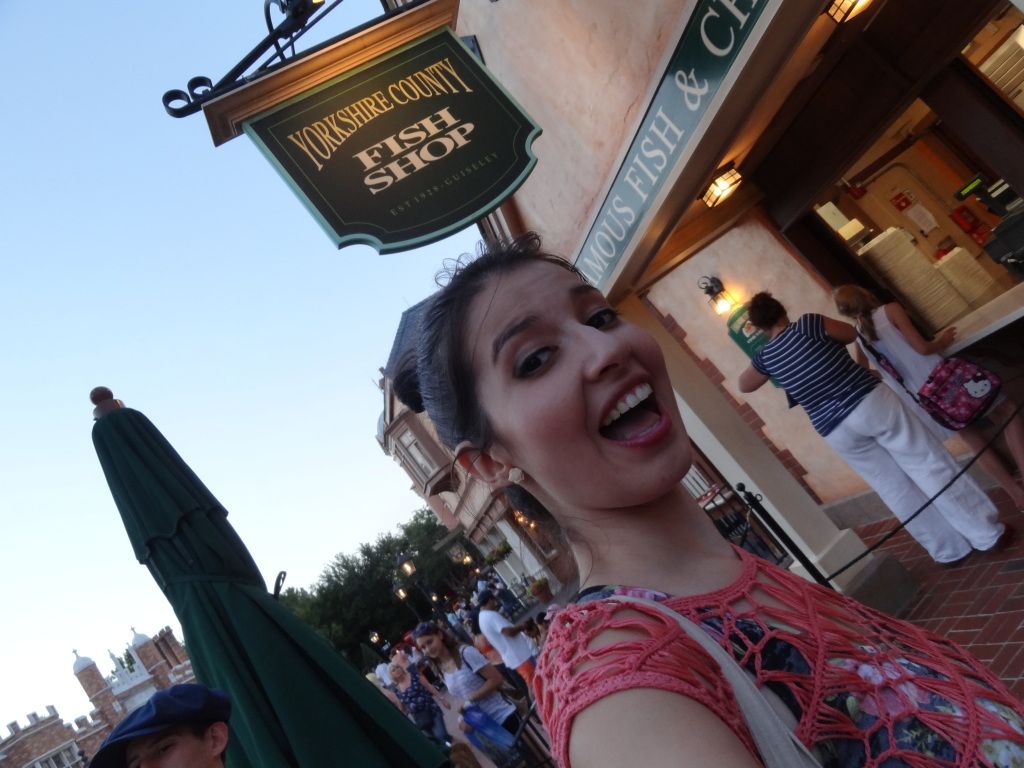 After quickly previewing Canada, we rushed over to the United Kingdom. At that point we only had 45 more minutes before the firework show. After picking up some London tea for the road, we headed down to a edge of the lake and ordered up some fish and chips, which my Tia told me I had to try.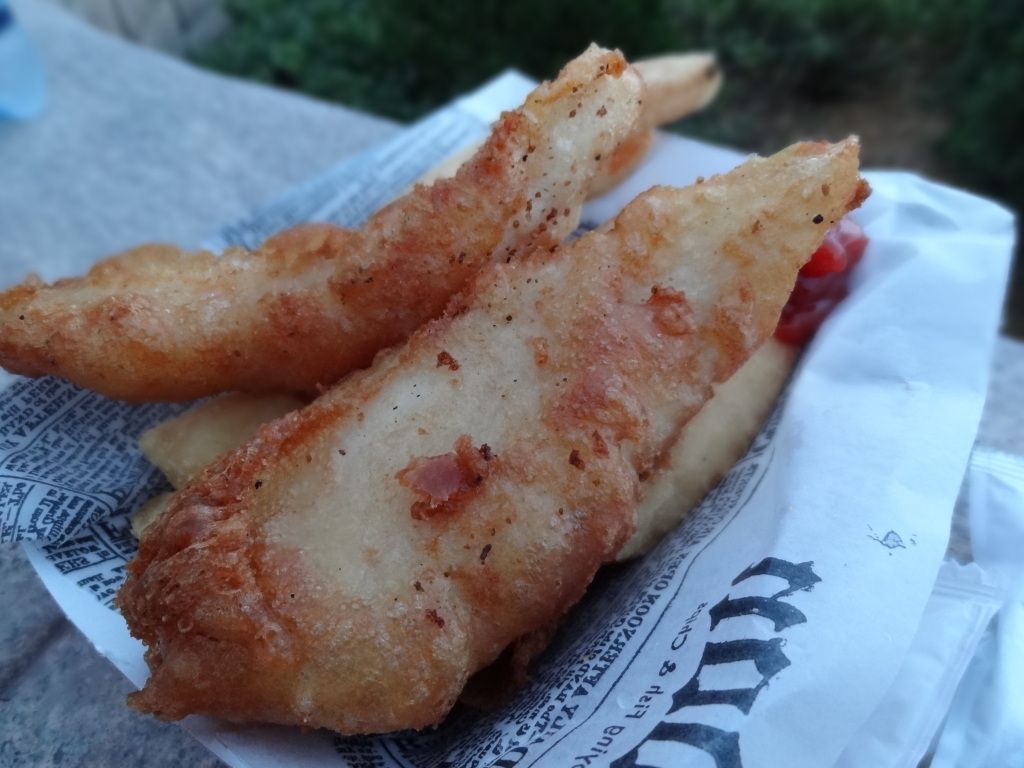 We each had one. After my first bite, I secretly wanted both. The  breading wasn't overdone or too thick. It was crispy and crunchy in all the right places, and the fish inside was fresh and hot. The fries were also tasty.
Now for the main questions:
Top 3 favorite Dishes: Rustic Ham and Tartine, Almond Pretzel, and Fish and Chips. Tipsy Ducks in Love drink was also tops.
Is it worth a repeat visit? Yes
Would I order the same dish or change it up? I would re-order my 3 favorites, but I would like to have a full Norwegian Meal next time.
Don't take my word for it. Go check it out!