Pulled Pork Piled High:
I love food, and as a food lover, I often find myself open to most food outing suggestions. Mike on the other hand, likes to eat, but is a bit more picky than me. Because of this, if I am going to treat us to a meal out, I usually give him three or four options, letting him choose. Although I am up for eating most things, I still have my faves, which is why I narrow his options. Otherwise, it could result in me eating Peter Piper Pizza every night. Just to clarify, Peter Piper Pizza is quite tasty when funds and energy are low, and we want to get our eats on while lounging around the house watching our favorite T.V. shows on Netflix.
After a week filled with eating light and low protein meals, I find that my weekend food suggestions consist of meat, meat, and more meat. On one of these weekends, I had suggested Famous Dave's as an option. Mike loves their corn on the cob and corn bread muffins, and I crave their pulled pork and mac and cheese.
Although I am usually one who likes to change things up after frequenting a restaurant enough, I have tried enough of Famous Dave's meats and sides to confidently have a solid favorite. Mike has ordered the same platter every time we have ever gone to Famous Dave's, so nothing much has changed there. Now, every time Mike and I eat at Famous Dave's we both order our go-to favorite dish. The servers are always very pleased by this too. No fuss, no questions, just good food. After all, the sooner we order, the sooner we eat.
I have fallen into food love with their pulled pork sandwich, and after trying it Memphis style, I have not been able to go back. I was hooked after the first bite. Never had I ever thought that coleslaw would taste good in a sandwich, but it's yumstatic! I wouldn't order it any other way. I also always order their wedge fries as my one side and add on an order of their mac & cheese for a few extra bucks.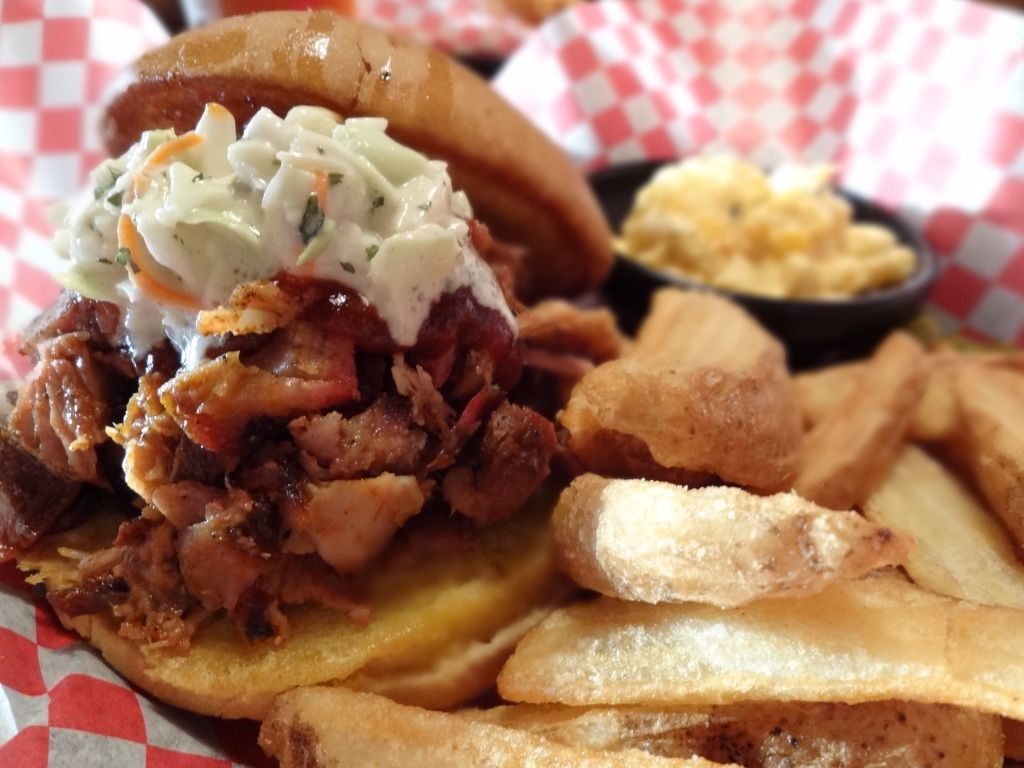 There is so much tasty meat stuffed between their soft potato buns, which is another favorite of mine, that after the first bite, the pork chunks just start toppling out of the sandwich, forming little piles of BBQ volcanoes throughout the plate. I usually gather the pork and mix it into the mac & cheese to make it extra good. I also usually squeeze a slight drizzle of BBQ sauce onto each bite of my sandwich for an added kick of flavor, and my fries are always dipped into a mound of ketchup before consumption. I always say that if there were no ketchup for my fries, I'd probably never eat potatoes.
Although the sandwich is a monster….
I can always tackle it like a champ, eating everything, including all of the pork pieces that find their way into my mac & cheese mix. Although I do put a hefty dent into the wedged fries, I could never completely clean my plate. That's probably a good thing because if I could, it wouldn't be long before I wasn't fitting into my jeans anymore.
Now for the main questions:
10 scale service rating: 9
10 scale food rating: 10 ( Sandwich), 8 ( Fries), 9 ( Mac & Cheese)

Is it worthy of a repeat visit?   Yes
Would I order the same dish or change it up? Same

Don't take my word for it. Check it out:
Famous Dave's
4565 N. Oracle Rd.
Tucson, AZ 85705