Pretty Pancake Palace:
Out of the five or six breakfast places on my list of food spots we should try while in San Diego, Mike picked Snooze Cafe. I'm not sure what made Snooze sound better than the other choices, but I'm guessing it was because of the location. It was only a mile away from the hotel in the Hillcrest area. As we drove up to the cafe, I was immediately impressed with the clean surrounding area. It seemed like it would be a fun place to walk a dog or sit outside and people watch while sipping a cup of coffee. The inside of the restaurant was also pretty fun. It was retro, colorful, and full of natural light.
After a short wait, we were seated in a booth toward the back of the restaurant. Our waitress quickly took our drink order with a big smile and a great attitude. Looking over the menu, I already had an idea of what I was going to order. Before going to the restaurant, I had done my research early on. I knew I was getting the pancake flight, which was a sample of three pancakes, but I didn't know which to order. They all sounded so good. This place was creative: Pineapple Upside Down Pancakes, Red Velvet Pancakes, Sweet Potato Pancakes, Corn Muffin Pancakes….. Yeah. It was tough. Luckily, our server was super nice and helpful when I asked for her advice on what kind of pancakes to choose. I had already decided on the Pineapple Upside Down Pancake, but I couldn't choose the other two. She suggested a pancake that wasn't on the menu: The Cinnamon Roll Pancake. I jumped on it because I love cinnamon rolls, and couldn't wait to taste it in pancake form. I was leaning toward the Red Velvet Pancake, but my server suggested the Peanut Butter Cup Pancake instead. I'm a huge peanut butter chocolate lover, so I went with it.
Mike ordered french toast, and I have to admit, when they brought out our plates, mine looked way prettier than his: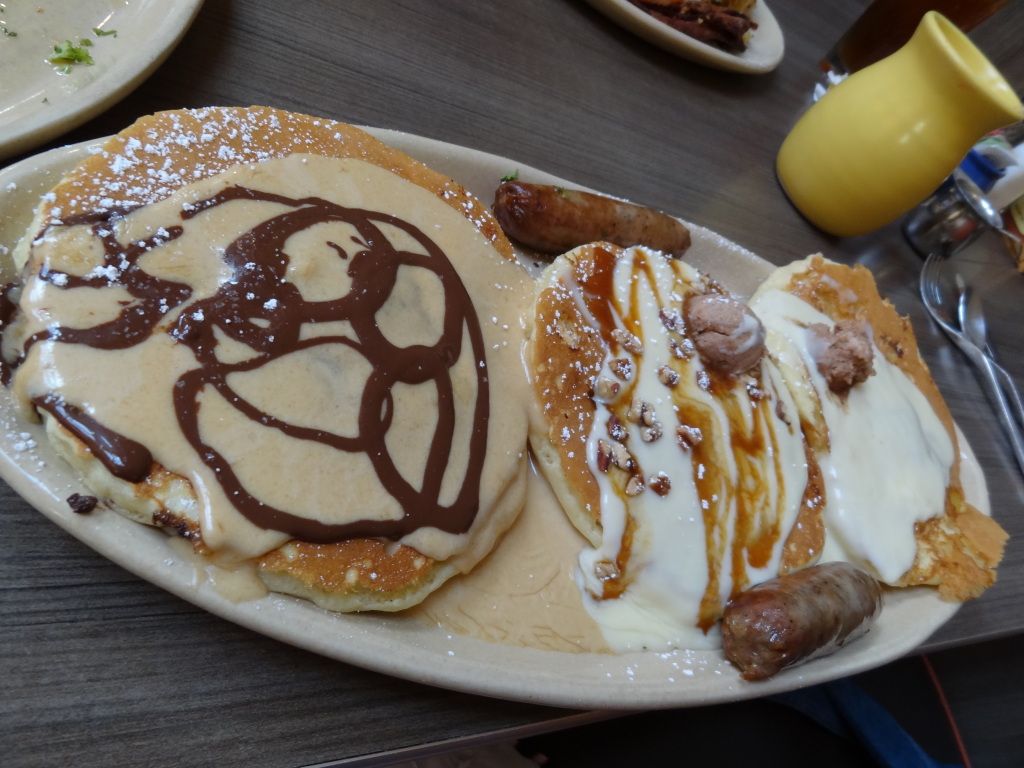 Now for a close up view of each because they all deserve their own spotlight.
The Pineapple Upside Down Pancake:
The Cinnamon Roll Pancake:
And the Peanut Butter Cup Pancake: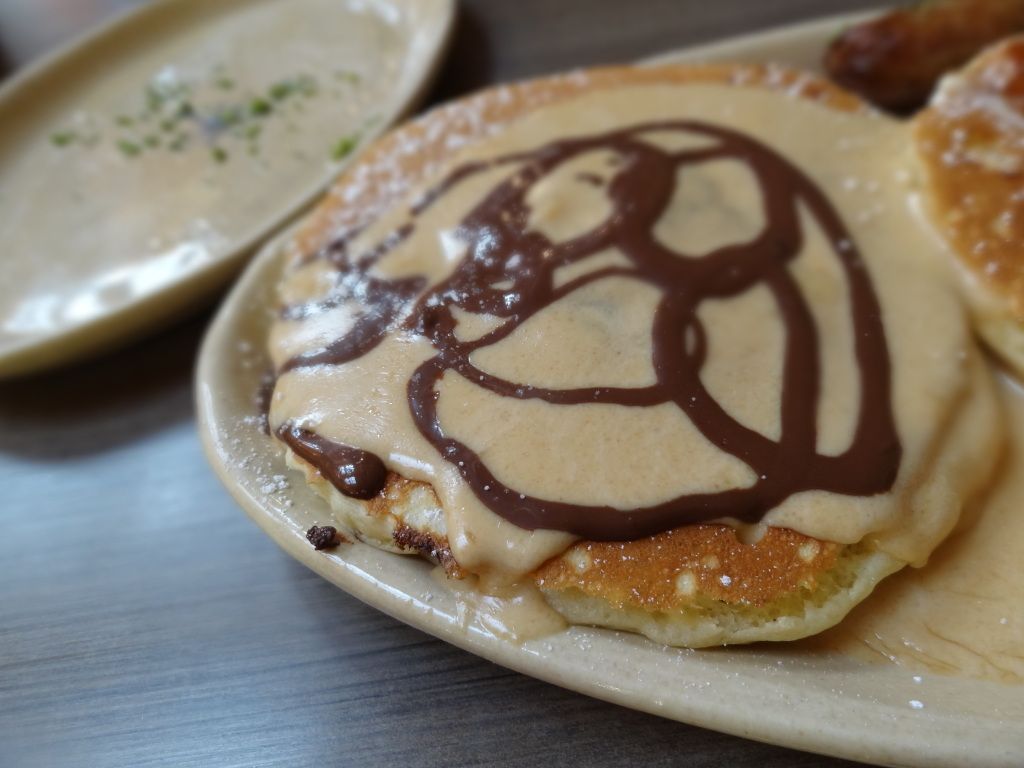 Firstly, they were each a treat of their own. The flavors were rich, sweet, and unique. The pineapple upside down pancake was full of pineapple chunks, which was a nice contrast to the other flavors on the plate. The cinnamon roll pancake tasted just like a flatted out cinnamon roll. The cream cheese syrup was my favorite. The peanut butter cup pancake was bursting with nutty goodness. It had just the right amount of chocolate too. Not too much. It was a mellow chocolate glaze.
My favorite had to be the cinnamon roll. It was the perfect amount of everything. I ate more of this cake than all the others. They were so rich in flavor that I couldn't finish any of them. I probably only got down one full cake's worth. I was happy with my eats. My stomach left smiling.
Now for the main questions:
10 scale service rating: 10
10 scale food rating: 8
Is it worthy of a repeat visit?   Yes
Would I order the same dish or change it up?I would change it up. I'd like to try their breakfast pot pie or one of their Benedict creations.
Don't take my word for it. Go check it out:
Snooze Cafe
3940 Fifth Avenue
San Diego, CA 92013