Best Bagel Breakfast Ever:
Mike and I are regulars to this local cafe. It's so close that it only takes us 2 minutes to stroll on over. We've been going to KG's for a couple of years now, and I've still only tried 2 things on their menu. I'm usually way more adventurous, but ever since discovering their breakfast bagel, I haven't had the desire to try much else. It is simply the best bagel sandwich I have ever had, and I've never been disappointed, so I'm kinda hooked.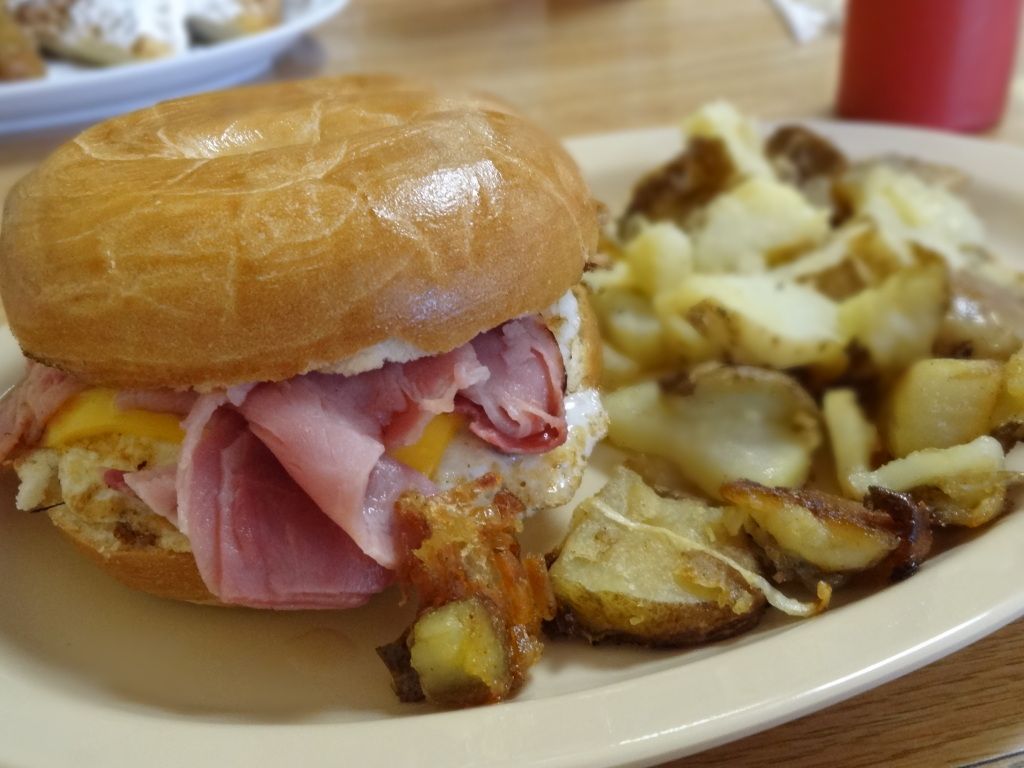 It's toasted, yet soft in the middle. The perfect bagel combination. The fried egg, melted cheese, and thick slabs of ham are also cooked to perfection. And with a side of their home fries (best when requested well done and crispy), it's the perfect meal to get a weekend started. It's a pleasant change from my regular weekday breakfast of coffee and half a banana.
Before discovering my go-to favorite, Mike and I used to always order the "Eye Opener," which was a well balanced sampler of french toast, a side of eggs, and either bacon or sausage.
Now, if I'm in the mood for something sweet, I just get a full order of french toast and sausage. I have decided that the eggs are no needed when craving sweets. I get more toast that way.
KG's in a great place to dine in or take home. In this summer heat, Mike and I have been enjoying having our meals at home in the comfort of our living room, while  enjoying a favorite television show. It's a fun way to spend the morning. Eating in our PJs. Yum!
Now for the main questions:
10 scale service rating: 7
10 scale food rating: 10 ( Bagel Sandwich) & 6 (French Toast)

Is it worthy of a repeat visit?   Yes
Would I order the same dish or change it up?
I would someday like to try their breakfast burrito. They are huge and I see them ordered often.

Don't take my word for it. Go check it out:
KG's Westside Cafe
1951 West Grant Road 
 Tucson, AZ 85745