Tucson Food Fest

Every year around this time, Tucson has a food and folk festival called Tucson Meet Yourself. A bunch of different food trucks, ethnic clubs and groups, and restaurants from across Tucson gather downtown and set up a huge food fest, accompanied by crafts, dance, and music from various cultural groups. It's a way to bring Tucsonans together from various backgrounds, with food and fun.
Mike and I went both days to the event. The weather was great and there were good vibes all around. It was a great way to start the weekend. By 11 pm the grills were fired up and there was food in the air. Decisions, decisions on where to begin……
Mike started it all off at the Danish Club.

He spotted the Danish pancakes (formally known as Æbleskivers), and knew he had to have them.
They are light pastry puffs, similar in texture to popovers. They come with a side of lingonberry jam. Mike fell in love with these little balls of danish dough. He liked them so much  he had a second serving, and he now wants to buy an authentic æbleskiver pan, so that I could make these for him at home!
I'm still on my dessert free diet, so I had to refrain from tasting them, so I just had to take his word for it. I told him that when I got down to my goal weight, we would go down to the Danish bakery and have some together. I almost need to now because he made such a huge deal about how yummy they were! He really rubbed it in…..ha!
After scanning all the food trucks, Mike decided on a Turkish lamb wrap as his main meal, known as a doner kebab. It's a dish made of meat cooked on a vertical spit. He saw that spit and his mouth started watering. He was expecting something similar to a Greek Gyro, but what he got was something very different.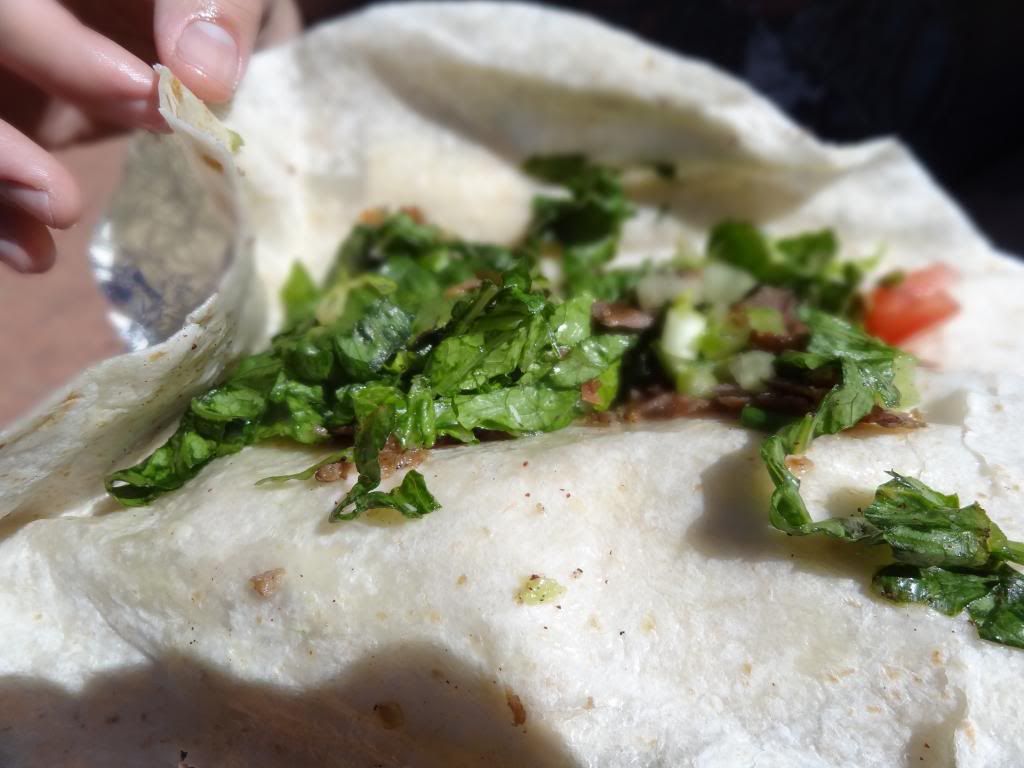 It was very thin pieces of meat sprinkled over a tortilla mixed with lettuce and tomato. He picked all the meat out of the wrap and tossed the rest. He said the meat was good, but it just wasn't what he was expecting. He also ordered Lao Tea, which he didn't like. He gave me a drink, and I loved it, so I happily took it off his hands.
It was very light and refreshing. It had a similar taste to sweetened Thai tea, minus the milk. I remember last year at the festival, Mike did the same thing. He ordered the Lao Tea, didn't like it, so he gave it to me! De Ja Vu?
He was still craving a gyro, so I decided to join him in having some Greek food. Last time I had a gyro was almost a year ago. I was well over due to enjoy some tasty lamb meat and pita bread.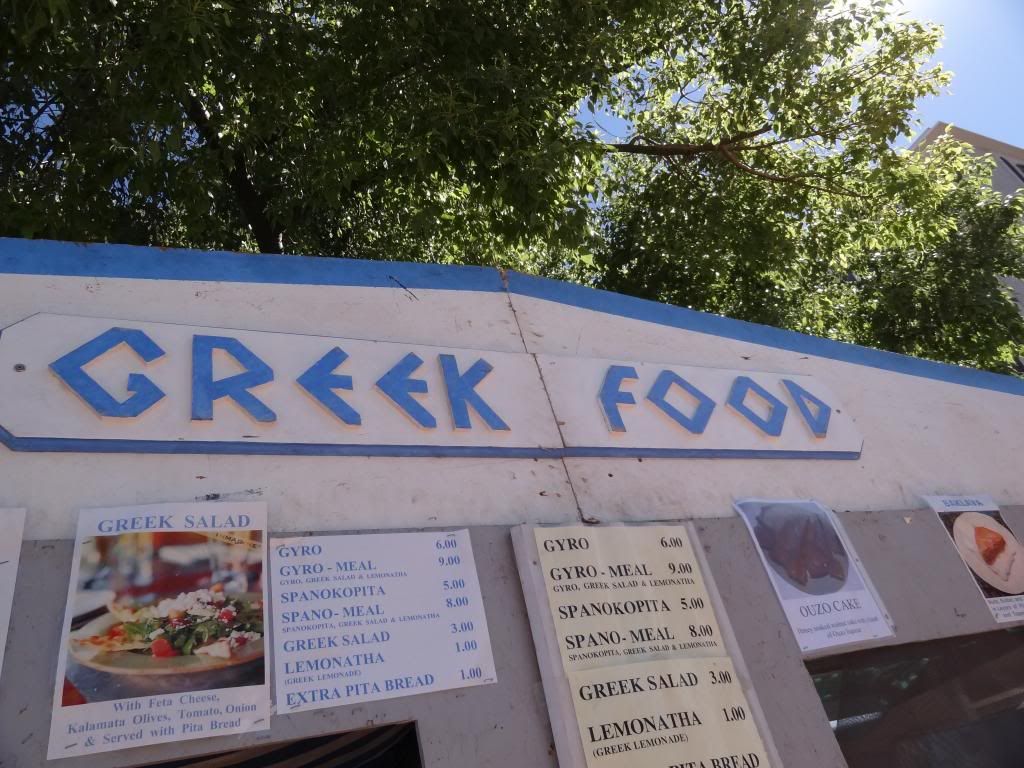 I ordered mine with all the fixings, while Mike ordered his plain with only the meat and yogurt topping.
It was simple, filling, and tasty. I ate the entire thing, and even licked my fingers when I was done!
At that point, I was pretty full, but Mike wasn't done snacking, so we made our way over to the Swedish booth, and he ordered up the Swedish meatball combo.
It was a small sampling of a lot of things. All Mike ate were the meatballs (quickly), the jam, the Swedish molasses cookie, and the bread. He said that although it wasn't bad, he wouldn't be back for more. I'm assuming he was expecting bigger meatballs?
DAY 2
Mike started his meal out just like yesterday, with an order of Danish pancakes, explaining that they were just as good as they were yesterday. Once again rubbing it in!
This time he only had one order, which surprised me. I guess he overdid it a little the day before. He gobbled them down pretty fast though.
He decided to get another gyro. He's obviously not very big on change. I on the other hand wanted to try something new. I was torn on 3 things: Thai food, Chinese dragon dogs, and Lao food. I finally decided on a Lao combo plate. I figured I could get Thai food and Chinese food anytime, but Lao food was a little harder to come by.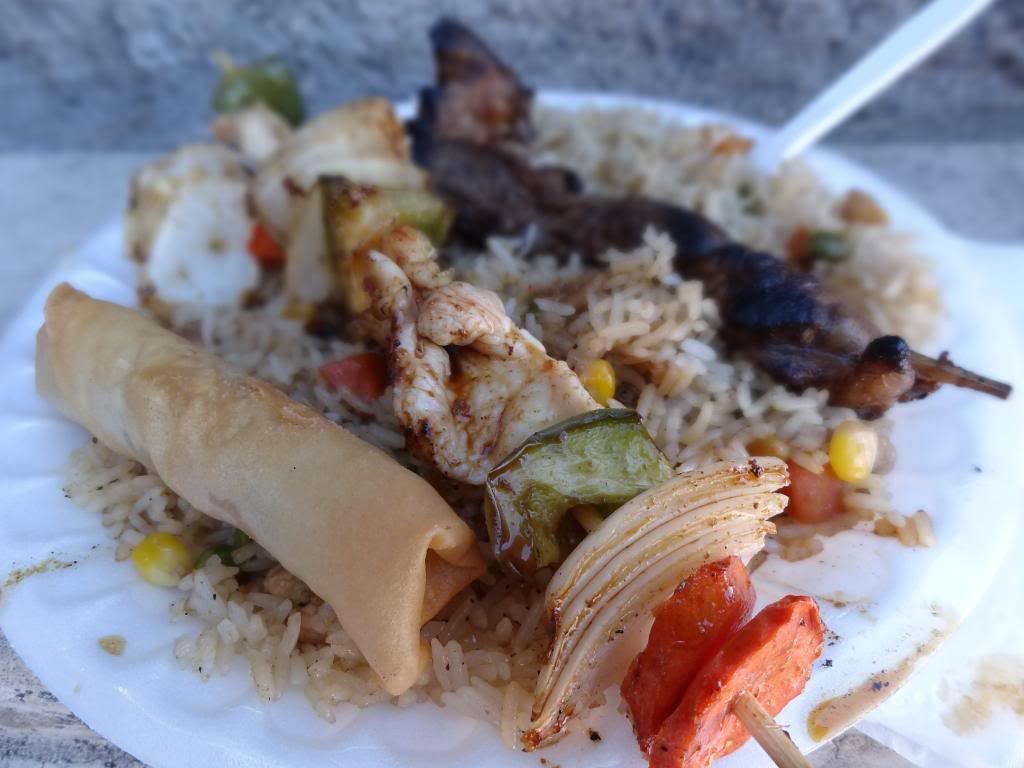 I ordered the combo platter, which came with a chicken veggie kabob, a Lao egg roll, a beef stick, all on a bed of fried rice. The rice was yummy. It was different than typical Chinese fried rice (which I love). They didn't fry it with egg which gave it a different taste. I liked it. The chicken kabob was juicy. I even ate the big chunks of onions. Poor Mike. They were very well seasoned and cooked all the way through. I only ate half of the beef stick, for it was a little tough with a little too much fat for my taste. The chicken stick would have been a better choice. The egg roll was petite and full of flavor. Not too heavy or greasy. There was cabbage, vermicelli noodles, and carrot inside. I was very satisfied with my plate.
It was overall a great day filled with good food, happy people, and fun music! I can't wait til next year…..
Now for the main questions:
10 scale service rating: 8

10 scale food rating: 
-Danish Pancakes: 10 ( Mike's scale)

-Gyro: 7
-Swedish Meatballs:  ( Mike's scale)

-Turkish Wrap:
-Lao Tea: 9
-Lao Fried Rice: 8
-Lao Kabob: 7
-Beef stick: 4
-Egg Roll: 6

Is it worthy of a repeat visit?   Yes
Would I order the same dish or change it up?

I would try the Peruvian Food and the Cuban Food

Don't take my word for it. Go check it out:
Tucson Meet Yourself
349 West 31st Street 
Tucson, AZ 85713
Next Event: May 2013